At Lord's on the first day of the second men's Cricket Test match, Australia gained the upper hand thanks to Steve Smith's superb performance.
Table of Contents
Day 1
Smith shown extraordinary talent and technique as he amassed an astonishing 80 runs in less than five hours, assisting Australia in taking a six-wicket lead over England in the Cricket Test. His knock served as a mature display of batting as he maneuvered around challenging bowling conditions and the England bowlers. He played a deliberate, patient knock that demonstrated his expertise and love for the game.
A careful bowling performance allowed England to take a small lead, but Smith soon took control. Australia had amassed a substantial first-innings advantage of 174 runs by the end of the day. Smith's brilliance and some outstanding batting displays from Marnus Labuschagne, Travis Head, and David Warner combined to achieve this.
Australia dominated the entire day, and they will be very confident going into the remaining games. Smith was without a doubt the standout player, as his tenacity and mental toughness allowed him to outduel England's bowlers. With a lead of 174 runs going into the second day, the match is now clearly in Australia's favor. Smith's performance stood out, ensuring that Australia continued its path to victory. He is still one of the top batsmen in the world, and he will be crucial to the squad for the remainder of the Test.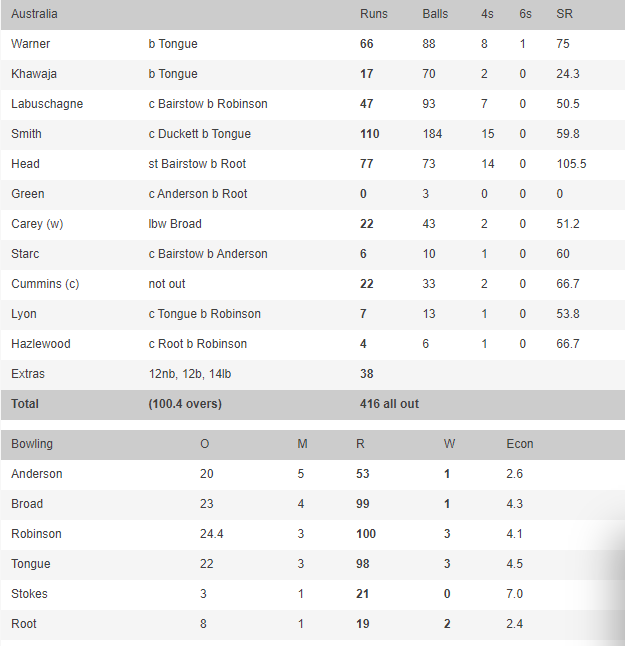 Day 2
At Lord's, day two of the second Test between England and Australia will begin, with the visitors seeking to take a commanding lead following the first innings.. At least the hosts may find some comfort late in the day when two Joe Root wickets in the same over left Australia 339 for five at stumps. Steve Smith has scored 85 so far and is perilously near to his 2019 form.
At the start of day two, however, England will need to demonstrate significantly stronger attacking bowling and fielding if they are to stop their rivals from setting a lofty Ashes target to chase.